You may have noticed this little giveaway going on thanks to Gooseberry Patch. Well, this might be my favorite cookbook yet from the gals over at Gooseberry Patch. This cheeseburger macaroni recipe is one of the reasons.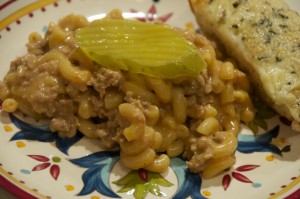 For any of you hamburger helper lovers, this is a great knock-off without the box. Start by browning up a pound of hamburger. Then grab your three main ingredients.
Add 2 1/4 cup of water, 1/2 cup of ketchup, and 1 t. mustard to the cooked ground beef.
Bring to a boil and add 2 cups
of uncooked macaroni.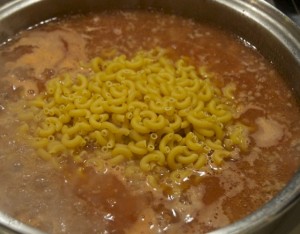 Reduce heat, cover and simmer for 8-10 minutes until macaroni is tender.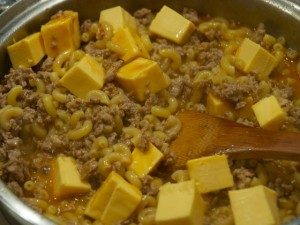 Once the macaroni is tender, add 12 ounces of Velveeta, cubed to the mixture. Stir until the cheese is melted.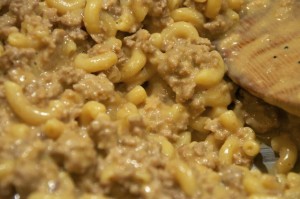 I love pickles on my cheeseburgers, so I of course added a pickle to the top of this dish.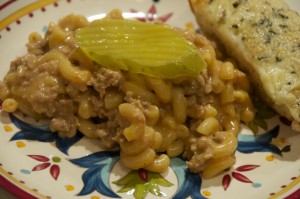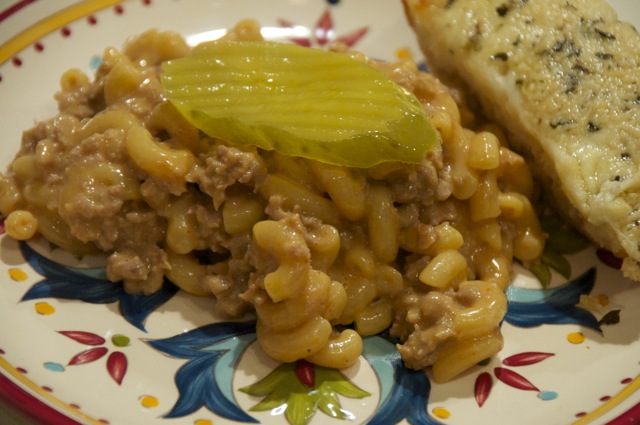 This recipe is a quick and easy hamburger helper knock-off without the box that is sure to please cheeseburger and macaroni and cheese lovers.
Ingredients
1 lb. ground beef
2-1/4 c. water
½ c. ketchup
1 t. mustard
2 c. elbow macaroni, uncooked
12 ounces of Velveeta
Instructions
Brown beef in a large skillet.
Drain any grease and then add water, ketchup and mustard.
Bring to a boil and then stir in uncooked macaroni. Reduce heat to medium-low heat, cover and cook 8-10 minutes till macaroni is tender.
Add cheese in cubes. Stir until melted.
What do you have cooking this week? Any good valentine's day dinners? Be sure to share your inspirational dishes.



The cookbook was supplied by Gooseberry Patch. Affiliate links were used.